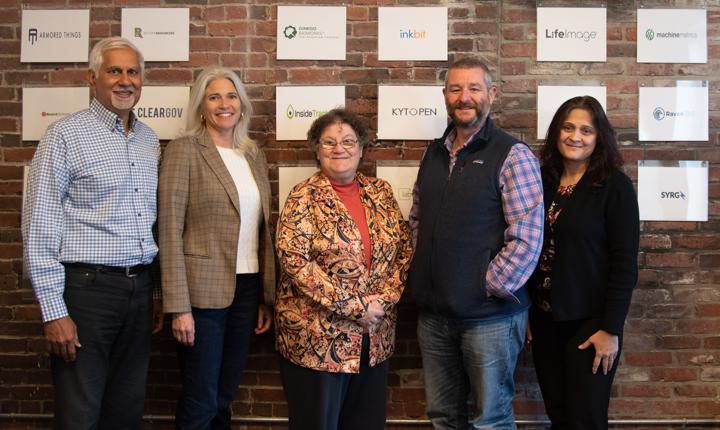 MassVentures enjoyed record growth in 2021, funding 67 companies with $6.5M in grants and investments. We brought five new businesses into our investment portfolio, including Battery Resourcers, Inkbit, JetCool, Paerpay and Pison. This fascinating group is solving challenges from cooling and energy efficiency at data centers, to 3D printing for advanced manufacturing, to improved lithium ion battery recycling in Worcester.
Our unique ability to identify and curate a diverse pipeline and provide business guidance and blended capital to these early-stage entrepreneurs is what sets us apart. We seek out founders who may lack traditional access to venture capital and build long-term relationships that support them on their journey from startup to growth company.  MassVentures' inclusive approach to funding entrepreneurs was, in fact, featured in the Boston Globe's Sunday Magazine edition on Women in Power, in November, and on Boston Public Radio (Jim Braude and Margery Egan November 5 show).
In 2021 our powerhouse technical assistance team provided some 200 hours of pitch coaching sessions to applicants of all the grant programs we manage, or co-manage with MassCEC, as well as to entrepreneurs in our network seeking to raise venture capital.  We also provided sustained business coaching to dozens of entrepreneurs, such as through our SBIR support program and the MassCEC InnovateMass grant program.  
Takachar Limited is one such grantee that my colleague Vinit Nijhawan coached through InnovateMass, providing advice to the founders on everything from selecting supply chain partners, to finance strategy, to putting together a team. And in October, we were thrilled to learn that Takachar won Prince William's GBP 1 million EarthShot Prize in the Clean Our Air category, for its innovative machines that convert crop waste to energy. Takachar also won the  2021 XPRIZE in the Carbon Removal Student Competition.
Among other highlights in 2021:
·     MassVentures' portfolio company Ginkgo Bioworks went public in October, trading shares under the ticker symbol DNA. MassVentures has accompanied Ginkgo's remarkable journey from MIT spinout to synthetic biology giant since providing it START grant funding in 2013.
·     We held the MALSI virtual conference in July, The Hub at Warp Speed: From Lab to Jab to Beyond, attracting 500 participants to the flagship life science networking event.
·      The MassVX matching program scored a 30% success rate, making 17 matches out of 58 curated "collisions" between early-stage founders and entrepreneurial champions. One such match was made between Marty Dugan and Sol Aclarity. Marty joined the BU spinout as a business advisor and is providing guidance on business development and product commercialization strategies.
 ·     Stacy Swider joined the MassVentures team in July as a VP of Investments. Stacy is former director of the SBIR Program at the University of Massachusetts Lowell and brings a wealth of experience. Read her blog.  
·     Our partner program provided $1M in in-kind services.
·     59 entrepreneurs were funded through the Acorn, Catalyst and START grant programs.
Despite continued rockiness with Covid-19, 2021 was a year of stellar growth at MassVentures. We've built a powerful engine and are ready to move swiftly in the new year doing what we do best—helping early-stage tech entrepreneurs develop into thriving businesses that create jobs.
Photo: MassVentures team from left to right, Vinit Nijhawan, Stacy Swider, Gail Cormier, Charlie Hipwood and Priya Yadav.