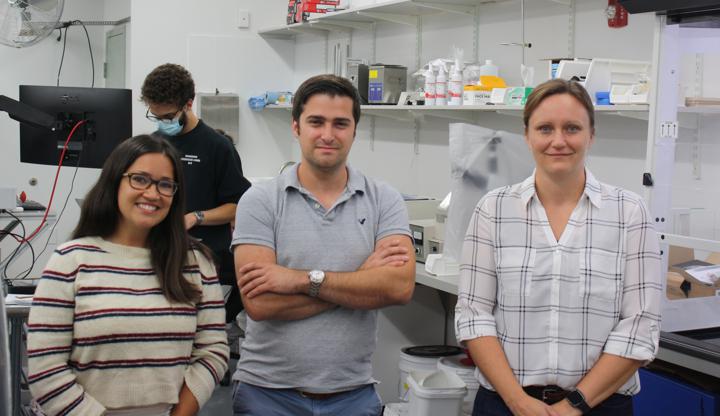 Alloy Enterprises Inc is tackling on-demand manufacturing for aluminum parts to help lightweight automobiles, trucks, airplanes, and heavy machinery. Founded in 2020, the Greentown Labs member is honing an additive manufacturing process (also known as 3D printing) that combines laser cutting with a novel metallic bonding process to produce (solid 6061) aluminum parts.
The process uses aluminum sheets instead of the typical metal powder, resulting in improved safety, decreased energy intensity in manufacturing, and lower costs.
 Alloy Enterprises' light-weight aluminum parts could help reduce #ElectricVehicle (EV) weight and increase driving range—addressing "range anxiety," or consumer angst about how far they can drive an electrical vehicle before it runs out of juice. EVs require sensors and other components that add vehicle weight. By increasing the aluminum content and leveraging smart assembly designs, Alloy Enterprises' process offers a solution to one of the biggest challenges to greater adoption of EVs.
 The startup received a $65,000 Massachusetts Clean Energy Center Catalyst award in 2020 to do process development on its cutting method. "That was the primary goal from an R&D perspective, said Ali Forsyth, PhD, Co-founder & CEO, "but from a company perspective, the structure of the application process, and then pitching to the Catalyst judges was very valuable." Forsyth said that the diverse and experienced panel of reviewers asked difficult, pointed questions that that really helped them prepare for subsequent fundraising efforts.
Since then, Alloy has gone on to raise additional funding, including a $4.3 million seed round.
"We made a significant amount of progress in the first year after founding Alloy. We got this Capital early in our growth trajectory, which helped us to incubate the technology and move development along at an accelerated rate," said Andie Bedell, Co-founder & COO.
 Are you a MA early-stage #cleantech startup seeking funding? MassCEC Catalyst & DICES Program is seeking applications now through October 4. The program, co-managed with MassVentures, is now offering prototype development grants of up to $65K for eligible certified woman-and minority-owned early-stage companies. Get more info and apply:
https://www.masscec.com/catalyst-and-diversity-cleantech-early-stage
photo: Alloy Enterprise co-founders (L-R) Andie Bedell, Nick Mykulowycz, Ali Forsyth
###