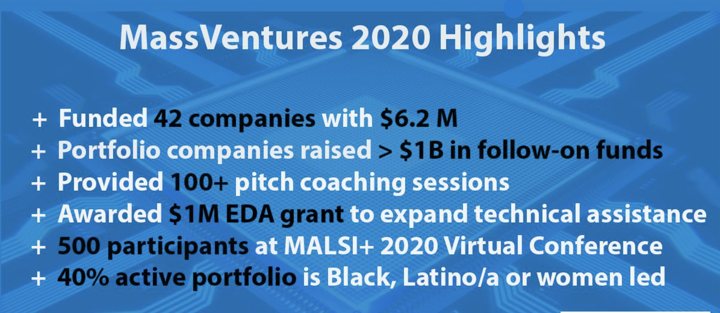 Blog Post: January 14, 2020
With 2020 in the rearview mirror, we at MassVentures are hopeful that 2021 will bring healing, recovery and prosperity to the Commonwealth, and to the nation at large.
To help stabilize and grow the Massachusetts economy in the year ahead, our team is rolling up its sleeves and doing what we do best: helping early-stage tech entrepreneurs get the business connections, coaching and funding that they need to develop into thriving businesses that create jobs.
We responded to the pandemic last year, and the dire economic needs of many in the state, by making ourselves more of a one-stop platform for early-stage entrepreneurs, from tech transfer through growth stage investment. As part of that effort, we brought Vinit Nijhawan and Priya Yadav, and the technical assistance and grant programs they ran at the Massachusetts Technology Transfer Center, into the MassVentures fold.
We now advise non-dilutive grant programs for the Massachusetts Clean Energy Center, the dilutive equity investment Mass Life Sciences Center Seed Fund, and lead the Massachusetts Association of Tech Transfer Offices (MATTO), in addition to managing our START SBIR grant program. We're also running MassVX, a first-in-the-nation program that matches academic spinouts with more than 500 vetted entrepreneurial champions.  
Acquiring these programs, and Vinit and Priya's wealth of experience, greatly expands our ability to help startups with the support they need to develop into businesses that can attract capital. That's true whether you're a spinout from a university lab, or an early-stage entrepreneur in Worcester, or anywhere in the Commonwealth. MassVentures can guide you to the right programs to help you succeed and grow.
And there's more to come. With the help of a $1 million grant we received last year from the federal Economic Development Administration, we'll be launching an online accelerator that we call the Commercialization Academy. It will help first time founders with go-to-market strategy, product development, fundraising, intellectual property and other relevant topics.
In fact, despite last year's many unprecedented headwinds, MassVentures is proud of the progress we made in 2020, and how it's positioned us for 2021. Among the highlights:
·     Our MV Capital investments, grants and revenue-based loan program funded 42 companies with $6.2 million. 
·     Our portfolio and grant companies raised over $1 billion in follow-on capital.
·     We took MALSI+ 2020 online in August, attracting over 500 participants to the flagship life sciences networking event.
·     Leading up to MALSI+ 2020 we attracted more than 1,000 participants to our weekly, virtual Hub Cures events.
·     Collectively, our small but mighty team provided more than 200 pitch coaching sessions to early-stage entrepreneurs.
·     We continue to work on diversity, equity and inclusion. More than 40 percent of our active venture fund companies are led by women, Black or Latino/Latina entrepreneurs and we continue to add great opportunities to our pipeline to drive that number higher.
Moving forward into 2021, our focus is deep tech, in alignment with Governor Baker's Partnership for Growth, but we're still available to help entrepreneurs of all tech companies.
Deep tech includes innovations that often address big societal and environmental challenges, like advanced materials and manufacturing, artificial intelligence, quantum computing, robotics,  synthetic biology, and health security. Deep tech is what Massachusetts is particularly good at. Deep tech is where we live. 
Our goals for 2021 are to 1) double the number of grants and investments we make, and 2) increase our technical assistance offerings by 10X, thanks to the $1 million award from the Economic Development Administration.
We know we can meet those goals because our record is strong. Over more than 40 years of investing, we've maintained returns in the top quartile. We've leveraged our capital 100 times, to close to $3 billion, in the last five years alone. Our portfolio companies and grant companies employ 10,000 people in the Commonwealth.
 We're here to support tech entrepreneurs in all corners of the Commonwealth. Get in touch, and let us know how we can help.