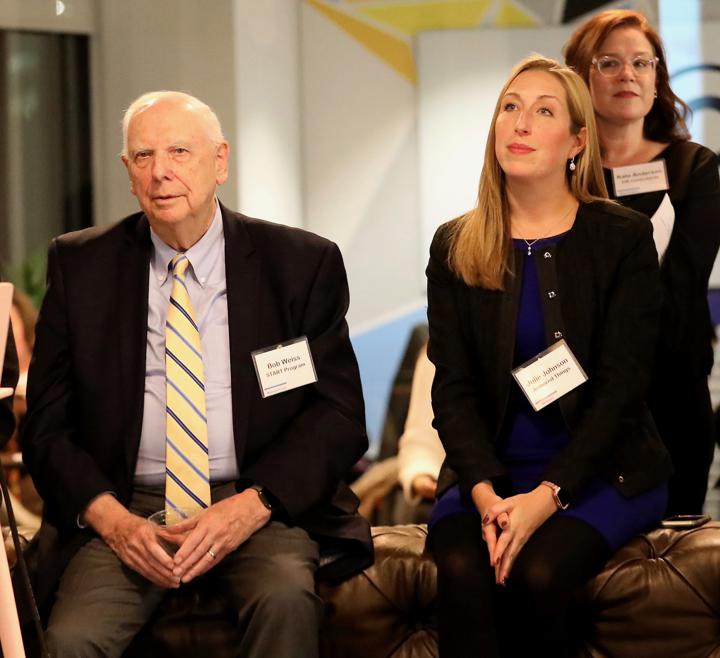 MassVentures lost a friend and revered colleague last week. Robert F. Weiss, known to all of us as "Bob," died suddenly on May 6. 
Bob was the driving force behind MassVentures' START, a grant program that helps Massachusetts companies commercialize research funded through the federal Small Business Innovation Research (SBIR) program. We mourn his loss.
Bob was accomplished, well-connected and he had a big heart. A scientist, with a PhD in Aerospace Engineering, Bob had an innate ability to connect with and champion the many founders who have come through the START program.
"He was incredibly curious, and very impassioned about the entrepreneur and the scientist, and he worked so hard in making connections and networking," as my predecessor, Jerry Bird, recalls.  
Jerry tapped Bob to help get the START program going about a decade ago, on the recommendation of Bob Baker, president of the Small Business Association of New England. For 30 years, Bob Weiss led Physical Sciences Inc., a research and development organization that he co-founded, and he was active in the Small Business Association of New England.
Jerry immediately liked Bob's vision for START: a contest where winners progress. That is, entrepreneurs are given a little money in the first round, and then compete for larger sums in subsequent rounds. Jerry also agreed with Bob that the money should go to the best companies—not the best connected.
Bob was skilled at working with representatives in Washington D.C. to help shape the legislation funding START to enable the type of program he envisioned.  "Bob added a lot of credibility," recalls Jerry. "He was just very creative on that front, trying to figure out if there are ways for us to get federal grants and so forth to expand."
In the early days, before my time at MassVentures, Bob was also very effective at getting the word out about the START program. His connections and credibility helped set the stage for the original cohorts of companies and for the original judges.  The companies also benefitted from the site visits that he made with John Fitzpatrick, former START program manager at MassVentures, according to Jerry.
"Bob had been there. He built a company; he had success. He knew a broad range of sciences, and his experience and opinions, provided a great direction for them. And he had no problem withholding his experience and his opinions—for better for worse."
One thing for sure, Bob was fearless about telling entrepreneurs what most people were either too shy or too politic to tell them. He might have ruffled feathers from time to time, but his advice was generally spot on, and he always meant well.
"He had a very gruff exterior, but once you got beneath it, he was really a very nice man," Gail Courmier recalls.  Gail, who has worked for MassVentures since its founding, likes to tell the story that when she first started communicating with Bob via email she thought he was always yelling at her. "I'd asked him a question, and he used to send back an email in large bold type. Funny, but it's just the way he was," she says, adding, "He was such a champion for small businesses and that was his goal, to help as many companies get funded."
And even though he was an ardent Yankees fan, who grew up in the Bronx, Bob enjoyed talking Red Sox with Gail, a passionate Red Sox fan.
Thanks to Bob, MassVentures has built a portfolio of more than 80 companies across the state that have received START funding.  That expanded reach increases our ability to help early-stage companies establish and grow—creating jobs and fueling economic growth in Massachusetts.  START helps us develop a "farm team" of companies of high quality, while giving us a pipeline of companies that most VCs don't have.  Ultimately, it increases our impact.  
Look no further than Ginkgo Bioworks, which came through the START program in 2013. It's now worth $17 billion and employs hundreds in the Commonwealth. There's also ClearMotion, Kytopen, Battery Resourcers, and so many more rising stars in the START portfolio.  
MassVentures owes a lot to Bob, as do many of the entrepreneurs who benefitted from START in their earliest days.
To learn more about his life, please read (if you haven't already), the Boston Globe's obituary, Science, Scones and a Life Well Lived. It does a beautiful job of capturing his spirit, his generosity, and his life's work--including his community leadership in Lynnfield and his creative endeavors beyond his profession.
"He really, really was trying to make a difference. In many ways, in his community, in the workforce in Massachusetts, and our technical sectors. He was trying to--and he did make a difference," Jerry recalls.
Photo: Bob Weiss seated next to Julie Johnson Roberts, CEO and co-founder, Armored Things, at MassVentures' 40th anniversary celebration.