Blog post: April 26, 2021
In recent years, much ink has been spilled on the notoriously opaque and closed-off world of venture capital that first emerged nearly 70 years ago. From books to blogs to YouTube and Podcast interviews, there is an abundance of educational content that was simply not possible before the internet – much of this made possible by venture investing itself. (Some of my favorite titles in this category include VC: An America History, Secrets of Sand Hill Road, and The Masters of Private Equity and Venture Capital.) In addition to the historical content, much practical education exists in these formats as well, some of which I have previously aggregated in the following pieces:
Despite the increase in general educational content, a market gap exists in providing a deep dive into the nuances of how to break into (and succeed in) the world of venture capital for aspiring venture capitalists. This, among other factors, may be contributing to a lack of diversity in the industry – both in terms of the gender/racial/socioeconomic backgrounds and educational backgrounds, such as the abundance of Harvard /Stanford grads and former investment bankers.  And that lack of diversity impacts which entrepreneurs get funded, and which ones don't.
As one of the 20 oldest venture capital firms in the country, with a focus on filling market gaps, MassVentures seeks to demystify the realities of landing a venture capital job and thriving in the role. We'd like to see greater diversity in both venture capital firms, and the startups that they invest in.
To that end, we've launched the Aspiring VC podcast, hosted by me, Matt Snow, MassVentures Analyst. You can find where to listen in on Spotify or Anchor. I'll be blogging about each episode too on Medium.
With over thirty episodes set for release in just the first months of launching, the Aspiring VC Podcast interviews full-time venture capitalists, ranging from Analysts and Associates, to Vice Presidents, Principals and General Partners. Interviews focus on each investor's origin story, life mission, and interests. Each episode drives towards practical tips and advice that aspiring VCs can use as they pursue a job in the industry.
And make no mistake, securing a venture job is no simple task – recent surveys have indicated that there are approximately 3,000 venture firms globally with an average of 7 non-partner employees. Compared to about 14,000 professional athlete jobs globally and considering most firms may have a single Analyst, potentially accompanied by an Associate, the numbers back the argument that its roughly equivalent to the odds of becoming a professional athlete.
If you're a woman, or Black, Asian or Latinx, the odds are even worse. Data from Richard Kerby at Equal Ventures show that just 11% of venture capitalists are white women, 6% are Asian women, 2% are Black men, and 1% Black women, 1% are Latinx men, and nearly 0% are Latinx women. And you'll see these same stats mirrored in who actually gets venture capital investment.
We do not share these statistics to discourage you. Quite the opposite, we believe you can learn the insider tricks and habits of the rising stars of venture capital. If you are passionate enough about getting a job in the industry, you can listen to every single episode, read every blog post, take notes, and reach out directly to the speakers. In the process, you will be condensing decades of combined experience at this task into the equivalent of a Netflix TV show binge.
The episodes that will be released in the following weeks run the gamut from Analyst to Partner, East Coast to West Coast, Accelerator to Growth Equity, sector-focused to generalist, as illustrated by the logo slide below: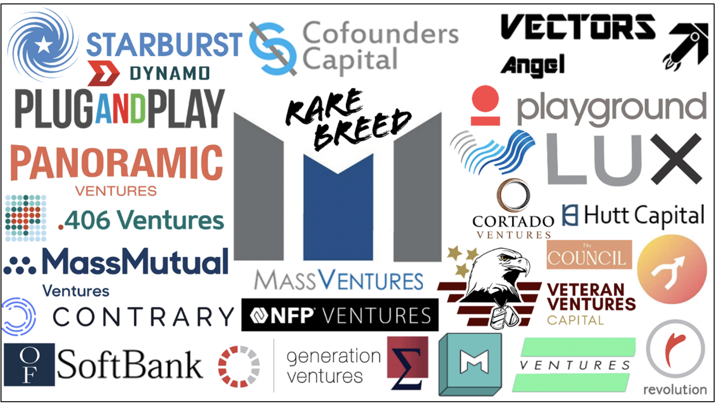 Special thanks to all the guests for "Season 1" who have come on the podcast so far:
·      Asher Kraut (Starburst Aerospace)
·      Jason Allen (MassVentures)
·      Matt Morris (Vectors Angel)
·      Ollie Howie (Softbank Opportunity Fund)
·      Ryan Vet (Angel Investor)
·      Tyler Dean (Confluence VC)
·      Konstantin Dubovitskiy (Make It Studio)
·      Jackson Rhodes (Sigma Ventures)
·      Rahul Rana (Lux Capital)
·      Aashna Kumar (Generation Ventures)
·      Tim McLoughlin (CoFounder's Capital)
·      Eugenio Gonzales (Plug 'N Play)
·      Justine Humenansky (Playground Global)
·      Mac Conwell (Rarebreed Ventures)
·      Mikal Khoso (Wavemaker Partners)
·      Simran Suri (Equal Ventures)
·      Susan Moring (Cortado Ventures)
·      Julia Kahky Panoramic Ventures)
·      Brooke Pollack (Hutt Capital)
·      Eliza Loring (.406 Ventures)
·      Kim Nguyen (MassMutual Ventures)
·      Derren Burrell (Veteran Ventures Capital)
·      James Barlia (Revolution Ventures)
·      Jessica Li (Angel Investor // The Council)
·      Rishub Nahar (Contrary Capital)
·      Carolina Rojas (NFP Ventures)
·      Rachel Braun (Dynamo Ventures)
We're excited to promote all of these new episode releases in the coming weeks, in addition to spreading the word further about The Fundable Founder, a podcast created by MassVentures President & CEO, Charlie Hipwood. The Fundable Founder provides a behind-the-scenes view of how to actually get your startup funded by VCs! If you haven't already, check out Charlie's recent blog, "8 Steps On the Fundable Founder Journey," which covers key learnings from the first episodes.
Image Source: JA Thompson (Pinterest)
---