August 17, 2022 (Original post on Linked In)
One of my favorite things about working at MassVentures is paying site visits to the startups we fund through our START program. START provides non-dilutive grant funding to Massachusetts-based startups to help them convert their SBIR research into businesses and jobs, and this summer I found myself crisscrossing the state, from Watertown to Beverly to Sunderland, to meet with some of our new awardees who are developing fascinating and important innovations.
Take for example, Beverly-based Radical Plastics, a woman-owned business on a mission to make a meaningful contribution to the battle against plastic pollution. Dr. Yelena Kann founded the company in 2018, after working for decades in the plastics industry and becoming increasingly disheartened at plastic pollution in the environment and especially in the oceans.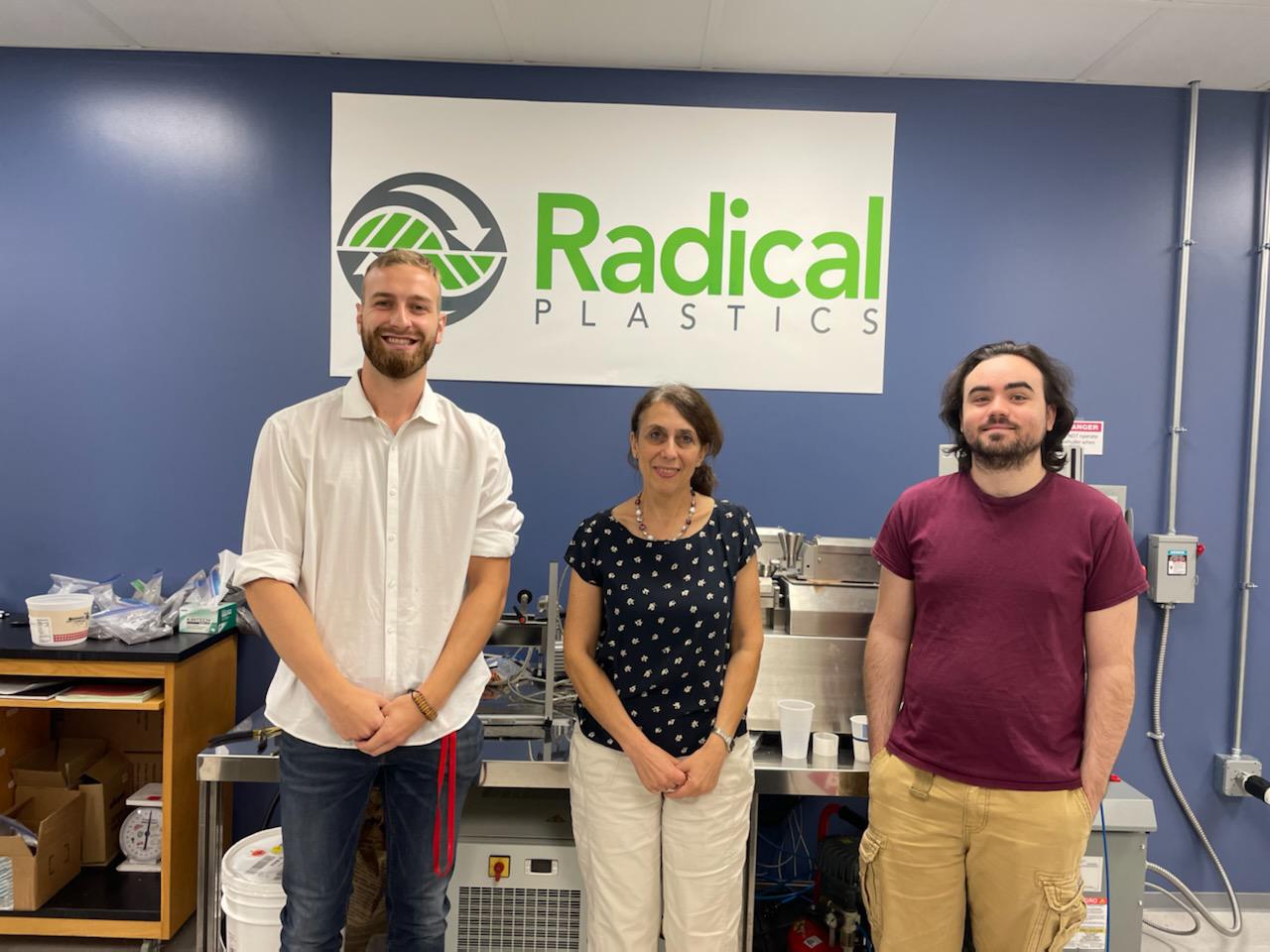 Dr. Kann, Peter Steeves and Sean Flynn gave me a tour of their lab space at North Shore InnoVentures, Inc. and showed me the process they use to generate their catalyst compound in a lab-sized extruder. The startups' focus markets are agriculture plastic mulch film, packaging, and fibers. They're currently running trials on the agricultural film, which Leominster-based AlphaGary and Peak Performance are compounding, Charter Next Generation in Turner Falls, MA is manufacturing, and local farmers are testing. How cool is that for spreading innovation and job growth across the Commonwealth?
The startup developed a technology that blends conventional plastics with a naturally occurring catalyst that transforms the plastic into a biodegradable material. In the environment, the catalyst converts the plastic into a material that microbes recognize as food. Radical Plastics compounds biodegrade fully in the environment, leaving no residue, toxic substances or microplastics. If that sounds too good to be true, their test data shows otherwise. The technology could be a game-changer in solving the plastic pollution crisis.
Thus far, the startup has raised $2.3M in pre-seed investment and is preparing a seed round for fall 2022.
KSE, Sunderland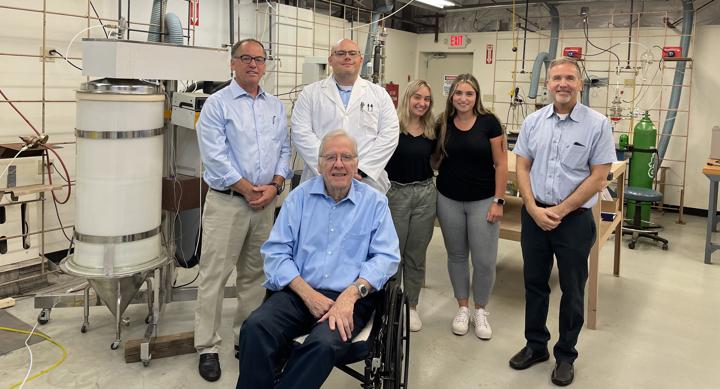 Then there's KSE in Sunderland, a family-owned business that has successfully developed and licensed novel "green" polymerization technology enabling the replacement of harmful chemicals, like benzene and phthalate-based plasticizers, in consumer products.
While the company has been around for over 50 years, providing technology development and professional services to the processing industry, it is now turning its chemical catalysis expertise to creating "greener" chemistries. KSE has developed a proprietary biomass-to-chemicals process, based on furan chemistry, which avoids expensive feedstocks and complex fermentation/solvent recovery processes. Polymers made from its furan-based chemicals demonstrate superior properties with fewer environmental and health impacts.
MassVentures' START grant enabled KSE to purchase a reactor and hire some staff so that it can move from the bench to piloting its innovation.  
During my site visit, I met with Dr. James Kittrell, KSE founder, and his sons Jeff and Keith who serve as Chief Commercialization Officer, and head of Operations, Finance, Commercialization, respectively, as well as the extended team, some of whom were hired with the START funds. They gave me a tour of their lab-scale production process for furans made from oak wood chips and other biomass materials.
Kittrell said that KSE is "thrilled to be part of the MassVentures' START community, not only for the financial support, but for the thriving relationships, support, and tools available from the team and past and current awardees." What's more, being a part of that community "speeds up our learning process as we scale-up our efforts at commercializing our novel technology." Music to my ears!
The startup is looking to establish a basis for commercialization within the next year and it plans to do to do a full life cycle analysis to prove the environmental claims of its technology. With regulatory and consumer pressures growing to eliminate harmful chemicals, the technology could have numerous applications in multiple markets.
AmberGen, Watertown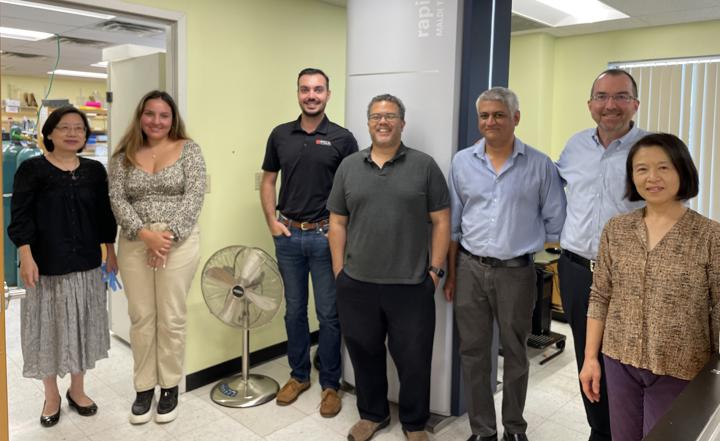 Finally, there's AmberGen in Watertown, which is developing new technology for spatial biology imaging, a new, but rapidly advancing field at the forefront of biological discovery.
The company's mission overall is to innovate in therapeutics and diagnostics by solving key problems that limit progress in medicine.
I met with John Gillespie, President and CEO, and six of his staff, got a tour of their lab space and learned more about the promise of their spatial biology technology. AmberGen's patented Miralys tissue imaging probes enable scientists to look at the spatial distribution of both large molecule biomarkers, such as proteins and glycans, and small molecules including drugs, metabolites and lipids, all in the same intact tissue sample—and that helps to clarify disease cause and effect. Such spatial biology tools are enabling scientists to gain novel insights into cancer, neuroscience, infectious disease, and autoimmune disorders.
Among other things, AmberGen is using the START funds for trade show and Customer Relationship Management expenses, both of which help with customer acquisition efforts. Gillespie told me, "With only 4 months since our first product shipment, it's a little early to say that our product has revolutionized anything yet. However, the promise of our technology has created a lot of interest with pharmaceutical companies, in particular. "
Indeed, in that 4-month period, AmberGen has also inked an investment and co-marketing deal with a strategic, Bruker Corporation, a leader in the mass spectrometry market. This partnership will be key in helping it advance the commercialization of its technology.
The site visits were fulfilling on so many levels – to see the amazing innovations across our Commonwealth, to sense the pride and excitement emanating from the folks I met, and to see the MassVentures mission play out in real time left me thrilled and longing. I just can't wait to see where these amazing and talented folks take their technologies in the future, and I am looking forward excitedly at the next set of innovators that will follow in their START footsteps. 
###