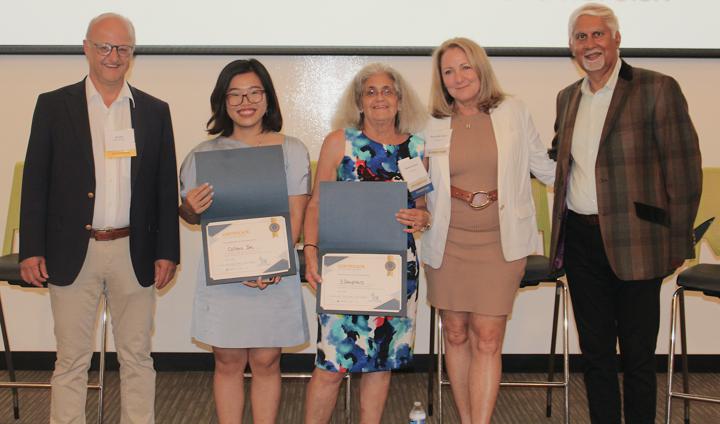 By Vinit Nijhawan and Karen Utgoff
July 29, 2022- Life sciences innovation is alive and kicking across the Commonwealth. That message came through loud and clear at the 15th Annual Massachusetts Life Sciences Innovation (MALSI) Day, held last week at District Hall in the Seaport.  Close to 200 scientists, post-docs, entrepreneurs, venture capitalists and business experts from all reaches of the state joined the pitch and networking event to celebrate and accelerate life sciences innovation—notwithstanding the extreme heat and Covid!
Returning to in-person this year, MALSI is a high-powered event enabling collisions to propel emerging academic life science technologies into promising new businesses. One of the day's most exciting features is a poster pitch in which academic entrepreneurs give 60-second pitches on their innovations to the audience and to a panel of judges. The two winners receive $2,000 each.
This year, MALSI, which was put on by Innovation Studio in partnership with MassVentures and other major organizations supporting the state's life sciences start-up ecosystem, received a record number of poster submissions from innovators representing a broader array of institutions than ever before. Harvard and MIT, national leaders at spinning out academic innovations, are always well represented at MALSI, but this year the vast majority of entrants came from institutions like the University of Massachusetts, Tufts University, Northeastern University and Worcester Polytech Institute (WPI).  
The University of Massachusetts at Amherst (UMass Amherst) topped all institutions, with a total of nine out of 25 poster submissions accepted, and it also produced the winner. 3Daughters, a women's healthcare company that has developed a novel frameless, non-hormonal intrauterine device (IUD) for contraception, based on the work of Carlos Gradil, professor of Veterinary & Animal Sciences, was the judge's pick for the most promising innovation.  The audience's pick was Cellens Inc, a Tufts University spinout developing non-invasive detection technologies for cancer cells.
UMass Amherst's stellar performance at MALSI underscored its outstanding research enterprise and the  growing impact of its Institute for Applied Life Sciences (IALS), which has a mission to translate fundamental research into innovative products, technologies, and services that deliver benefits to human health and well-being. IALS Founding Director Peter Reinhart observed, "MALSI is an event we look forward to every year. This year we are gratified to see our innovation and entrepreneurship efforts, and especially the research of outstanding UMass Amherst scientists and engineers, recognized. Moreover, it was great to be in-person to reconnect with some and make new connections with others."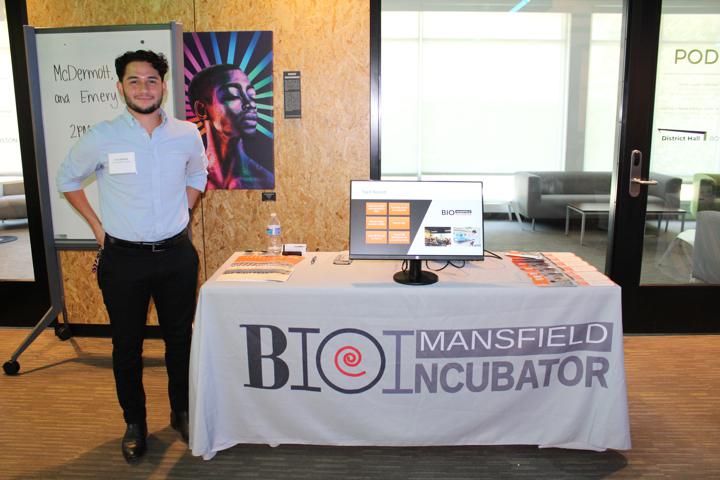 While the institutional representation was exciting to see at MALSI this year, so was the breadth of the innovation. The emerging technologies presented ranged from wearable technology to improve the quality of life for Parkinson's patients (MyoExo, Harvard), to a mobile game for identifying early onset of mental illness in preschool children (EarlyScreen, UMass Amherst),  to novel diagnostic technologies, such as for Lyme Disease (Lyme Disease Initiative, Tufts); to platform systems enabling a broad array of therapeutics discovery or manufacturing (Artificial Axon Labs MIT; Novel RNA Manufacturing (UMass Amherst) to novel therapeutics, such as for targeting obesity (Cyta Therapeutics), skins diseases (SynCell Biotechnology, Northeastern; PUPSystem, WPI) and  tooth decay (RegendoDent, Tufts). For the full list, see below.
We commend all of the academic innovators who presented their emerging technologies and can't wait to see what emerges at next year's MALSI!
Vinit Nijhawan is managing director at MassVentures and Karen Utgoff is director, IALS Venture Development
Photo credit: Innovation Studio
Full List of Poster Presenters
Shelley Amster – 3Daughters (UMass Amherst) A novel IUD that will dramatically reduce pain on insertion and eliminate strings.  
Seun Araromi – MyoExo (Harvard University) Improving the quality of life for people living with Parkinson's disease through wearable technology.
Ranan Aktas – Cellorama Building the next generation of simple, cost-effective lab consumables to improve reproducibility and reliability for cell research and therapy development.
Zijing Chen – Lumilin Therapeutics (Tufts University) Developing reliable cell engineering and optogenetics technologies for convenient, seamless management of blood sugar for patients with diabetes.
Elizabeth DiLoreto – Rescue of Neuropeptides by Feeding (Worcester Polytechnic Institute) Creating specifically engineered neuropeptides to transform microbes to benefit neural health.
Bonnie Fendrock – Cyta Therapeutics Tackling obesity using a liver-targeted delivery of a thyromimetic, which results in significant pre-clinical weight loss in the Diet-Induced Obesity mouse model.
Rosana Pochat Garcia – PUPSystem (Worcester Polytechnic Institute) Developing novel selenium-based nano therapeutics for the prevention and treatment of antibiotic-resistant skin bacterial infections without triggering bacterial resistance to the treatment.
Adam Grabell – EarlyScreen: Detecting Preschool Psychological Disorders (UMass Amherst) Mobile game designed to address the societal problem of early onset mental illness by helping health providers identify preschool children with potential mental health problems more easily, accurately, and quickly.
Peter Gwynne – Lyme Disease Initiative (Tufts University) Developing an antibody test to help diagnose and manage chronic symptoms of Lyme disease.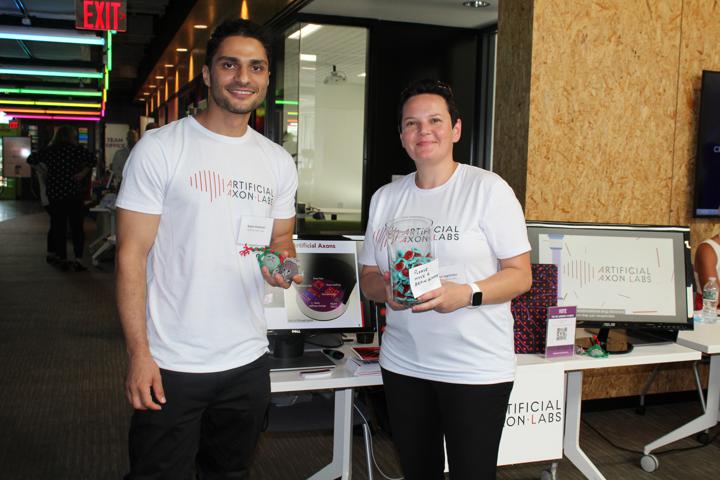 Anna Jagielska – Artificial Axon Labs (MIT) Artificial Axon Labs developed 3D printed Artificial Axons - a transformational platform to discover medicines for neurodegenerative diseases.
Joseph Jerry – E2-Path (UMass Amherst) Personalizing treatment decisions for women with estrogen receptor positive breast cancers.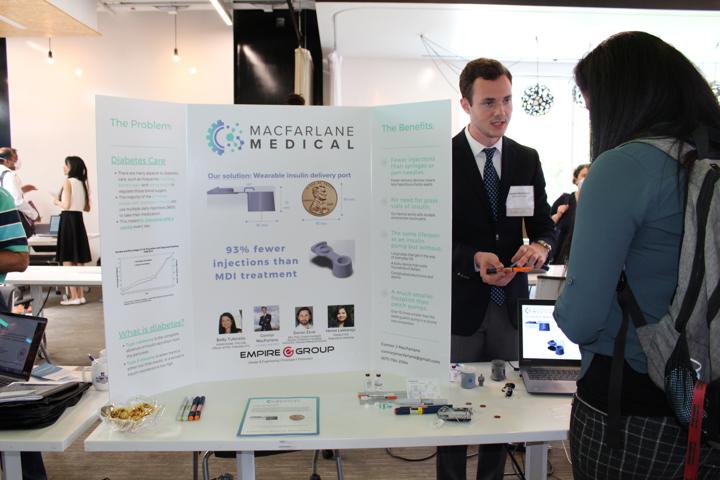 Connor MacFarlane – MacFarlane Medical (UMass Amherst) Developing a wearable drug delivery port that eliminates the need for people with diabetes to take frequent subcutaneous injections or use large, complicated, unreliable, and expensive pumping devices.
Greg Mannix – Novaurum Bioscience (Northeastern University) Nanotech cell-based coatings for medical devices.
Craig Martin – Novel RNA Manufacturing (UMass Amherst) Developing novel manufacturing advances to enable wide expansion of RNA therapeutics and technologies.
David Medina Cruz – SynCell Biotechnology (Northeastern University) Developing novel selenium-based nano therapeutics for the prevention and treatment of antibiotic-resistant skin bacterial infections without triggering bacterial resistance to the treatment.
Simin Meydani – VF24 (Tufts University) A unique plant-based solution that combats obesity and promotes healthy being and longevity.
Murugappan Muthukumar, ISight Therapeutics (UMass Amherst) Novel therapeutics to cure and prevent cataracts and presbyopia without surgery.
Phuong Jean Pham, Cellens Inc, (Tufts University) Developing non-invasive detection technologies for cancer cells.
Anujan Ramesh – Quaesar Therapeutics (UMass Amherst) Novel ovarian cancer detection technology.
Ahmet Can Sabuncu – SomaDevices (Worcester Polytechnic Institute) Development of a wireless Train of Four monitoring device that is cheap, reliable and easy to use.
Jan Skerswetat – PerZeption Inc. (Northeastern University) Rapid, autonomous, high-precision vision diagnostic platform enabling in-clinic and remote screening for data-driven vision loss prevention.
Alexander Suvorov – Method for Sperm Epigenome Rejuvenation (UMass Amherst) Developing drug therapy to rejuvenate spermatozoa in older men.
Adrianna Shy – Tumor X (Brandeis University) Developing a safe, biocompatible reagent that can be used in cell culture to combat tumor inducing stem cells quickly and efficiently.
Pamela Yelick – RegendoDent, Inc. (Tufts University) Developing regenerative therapies for the treatment of dental and craniofacial conditions. The company's first product, RegendoGEL, activates the regenerative properties of a tooth to restore vital pulp and dentin damaged by decay or trauma.
Haichong Zhang – Medical FUSION Lab (Worcester Polytechnic Institute) Ultrasound-guided access device that uses an acoustic mirror to facilitate accurate and intuitive needle insertion for percutaneous procedures.
###