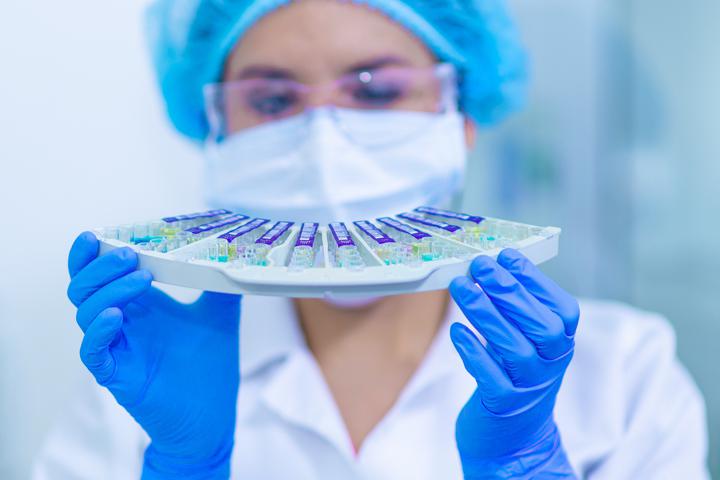 Boston Globe tech columnist Scott Kirsner recently named Boston the "Silicon Valley of biotech," or "the undisputed hub of the life sciences industry." Decades of efforts by many to cultivate an "innovation orchard" -- where our first-class universities and research institutions partner with industry, government and investors to bring cutting-edge life science technologies to market -- have clearly paid off.
MassVentures is proud to be a part of this ecosystem, providing patient capital to Massachusetts' life science and deep tech startups at the earliest stages when private capital can be harder to come by--or slower to recognize the potential of game-changing life science innovations that don't fit neatly into the therapeutics box. 
These startups grow our economy. As Massachusetts Life Sciences Center President and CEO Kenn Turner says, "Startups are the engine of our innovation economy and we must continue to create and build upon ways to ensure Massachusetts is the ideal location for early-stage enterprises to thrive."
Take Ginkgo Bioworks, now a juggernaut in the synthetic biology industry, valued at nearly $15 billion and providing hundreds of jobs as well as life-saving innovations. MassVentures helped Ginkgo Bioworks at the earliest stage, first providing grant funding through our START program, and later investing.
This year our START program awarded $3 million to 18 companies, some of which are focused on innovations in life science (see the full list here). START is designed to enable deep tech startups to convert their Small Business Innovation and Small Business Technology Transfer research (SBIR/STTR) into businesses and jobs in Massachusetts. Over 10 years, we've granted $28.2 million to 95 companies that have gone on to raise more than $2.5 billion and employ more than 3,000 people in the Commonwealth.
This year's life science startups—to name a few—are spinning out research and technology that revolutionizes cell therapy treatment; enables millions around the world without access to an optometrist to get their vision corrected via handheld technology; or takes caregiving technology out of the hospital and exam rooms into our phones, homes and community centers. They're shaping the present and future of life sciences, not only in the Commonwealth, but across the globe, and the Baker-Polito Administration, the Life Sciences Center and MassVentures are committed to continuing to support an ecosystem where they can grow and thrive.
Here are a few of their stories.
Novel Diagnostics
MassVentures awarded START grants to four companies developing novel diagnostic technologies: Leuko Labs Inc., (first non-invasive white cell test to enable frequent at-home monitoring for chemotherapy patients); Reveal Pharmaceuticals Inc  (safer manganese-based, Gadolinium-free, MRI contrast agent);  NanoView Biosciences, Inc.; (solutions to accurately detect and fully characterize extracellular vesicles, spheres excreted by cells responsible for intercellular communication and other functions), and Plenoptika, Inc.  featured below.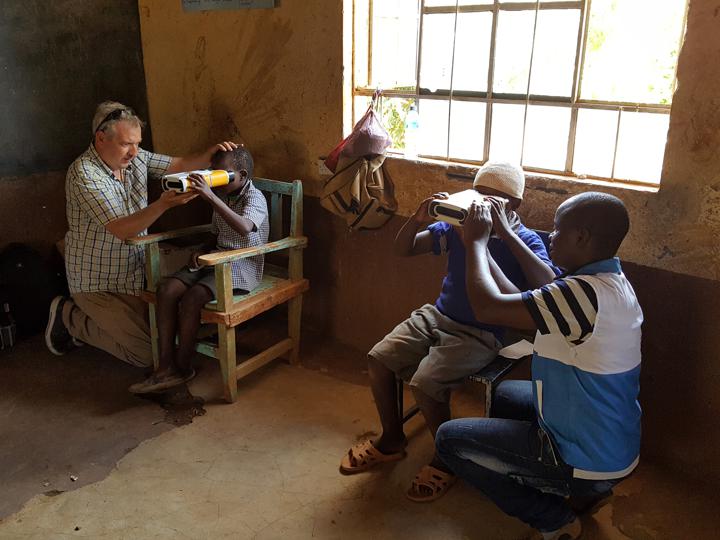 Photo: PlenOptika
 Co-founder and Chief Technology Officer Eduardo Lage (far left) and an aid worker measuring children in Kenya with QuickSee. Credit: PlenOptika.
PlenOptika seeks to correct the issue of poor vision around the world. With its handheld autorefractor the QuickSee™, PlenOptika is making it easier for all vision care providers to give quick and accurate prescriptions or measurements to aid those with distance-or-near-vision impairment. In environments with limited access to optometrists and clinical equipment, the QuickSee enables faster point of care for people to obtain eyeglasses and improve their vision.
Last year, MassVentures selected PlenOptika as one of 10 companies in the Stage I Winners of the START program. This year, the company was further awarded a Stage II grant.
Research published in peer-reviewed journals such as Ophthalmology supports PlenOptika's mission, noting that eyeglasses made with the QuickSee were the same as ones made in communication between a vision professional and a patient through subjective refraction measurements. PlenOptika's technology has measured 3 million people in over 45 countries, which is a promising start for NGOs and other care professionals to address the global issue of poor vision.
"Recognition and support from MassVentures comes at a critical time for PlenOptika," said Shivang Dave, Ph.D., CEO, and co-founder. "With their help, we are advancing our business to achieve impact on the scale of their remarkable alumni."
Innovations with the Potential for Widespread Application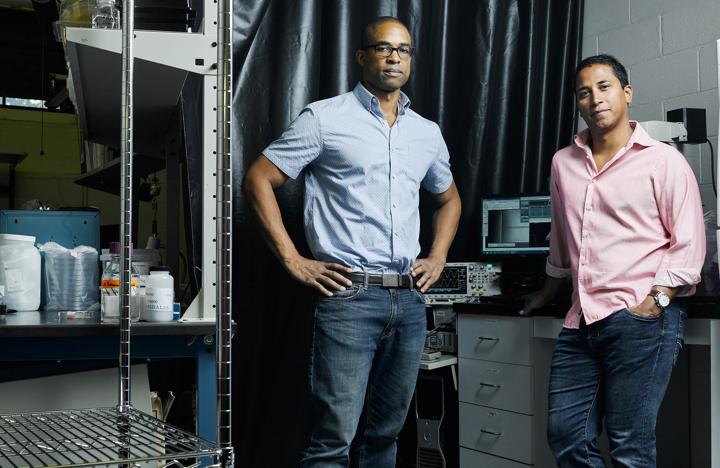 Photo: MIT Professor Cullen Buie (left) and CEO and Co-founder Paulo A Garcia, PhD. Credit: Doug Levy & The Engine.
A spin-out from MIT Professor Cullen Buie's laboratory, Kytopen is accelerating the delivery of gene transfers to existing cells by leveraging the influence of electrical fields on outer cellular envelopes. Kytopen's research and technology has yielded the development of a system that simplifies the process of injecting nucleic acid—think DNA—into cells using ex vivo engineering. The procedure, known as Flowfect™, uses continuous fluid flow, electric fields, and automation to make gene transfer faster and more efficient.
The technology is an important advance for the field of synthetic biology and has significant potential for changing the way people receive life-saving oncology treatments and vaccines.
MassVentures helped Kytopen get its feet off the ground via a Stage I grant in the START program in 2019. Providing this much needed capital gave Kytopen the ability to spread the word of its technology to potential partners and go on the conference and trade show route. Kytopen has now raised $3.6 million in venture capital and is one of the recipients of this year's Stage III awards in the START program.
Digital Applications for Patient Care
MassVentures START awarded grants to two companies developing innovative digital programs to facilitate patient care: DynamiCare Health,  which has developed a digital program that helps people overcome addictions and Kinto, featured below.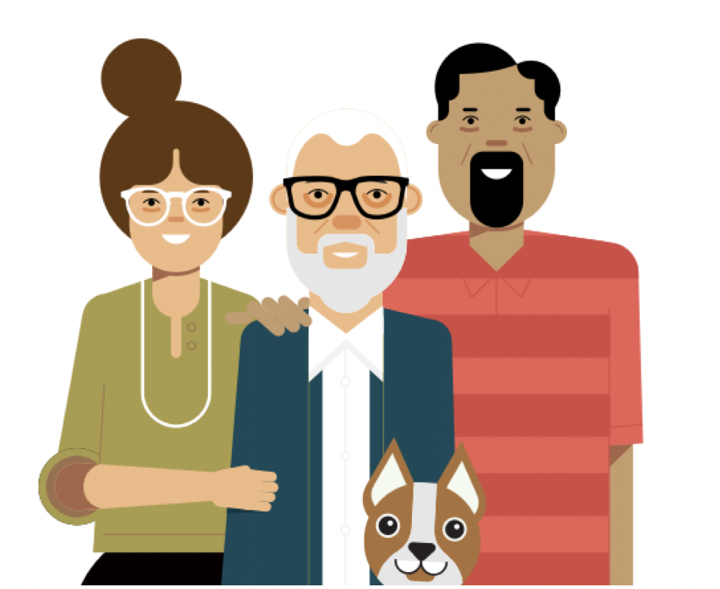 Launched in 2017, Kinto's goal is to streamline caregiving for aging adults, particularly those managing dementia and other cognitive impairments. A 2020 report from AARP and the National Alliance of Caregiving shows that approximately 53 million people in the U.S. are providing unpaid care for a loved one. Of those 53 million, 26 percent are caring for family members with dementia or Alzheimer's.
Kinto steps in to address any knowledge gaps and shore up family caregivers via coaching, group support sessions, and guided planning. Caregivers can login to the platform and chat with coaches regarding caregiving plans, ongoing lessons in a personalized curriculum, and participate in online emotional peer support sessions. Kinto users can also input valuable information regarding a loved one's diagnoses, allergies, ongoing medical appointments to keep everything in one spot.
According to CEO Joe Chung, clinical evidence shows that family care can change the course of disease like dementia by giving seniors the option to live independently for much longer. Kinto is a Stage II recipient and hopes to expand as a B2B enterprise where large employers can provide Kinto for free to their consumers, especially those who are using Medicare Advantage plans.
"It's harder to build a really great app, [with] back end and all the data management stuff than it looks, but we're not solving, you know, cold fusion here," said Chung. "On the other hand, I think the characteristics of a health tech company like ours that aspires to actually bend the cost curve of health care or senior care in the United States has a lot of the same kinds of financial requirements. We need patient, long-lasting capital that can fund the R&D and the development of a company."
Photo Credit:
Top Image by fernando zhiminaicela from Pixabay