This year marked a significant milestone for MassVentures. With its recent investment in Content Raven, we have now attracted over $1B of outside investment capital to our portfolio companies. Through its investment gains, MassVentures has leveraged $14M of state funding into $91M of its own investments. More importantly, because of the capital and commitment of over 50 venture funds and angel groups with whom we partnered, more than $1B has been invested in 138 portfolio companies, contributing to the growth of the Massachusetts economy.
Getting capital to these startups is a very important part of what we do. Another part is addressing capital gaps where the investment community may not be providing adequate capital. From our recent innovation economy survey, entrepreneurs and investors reinforced that it is very difficult for first-time entrepreneurs to raise money. In addition the gap remains from $50K to $1M but the surveyed showed that it is increasingly harder to raise from $1M-$3M; the Series A gap.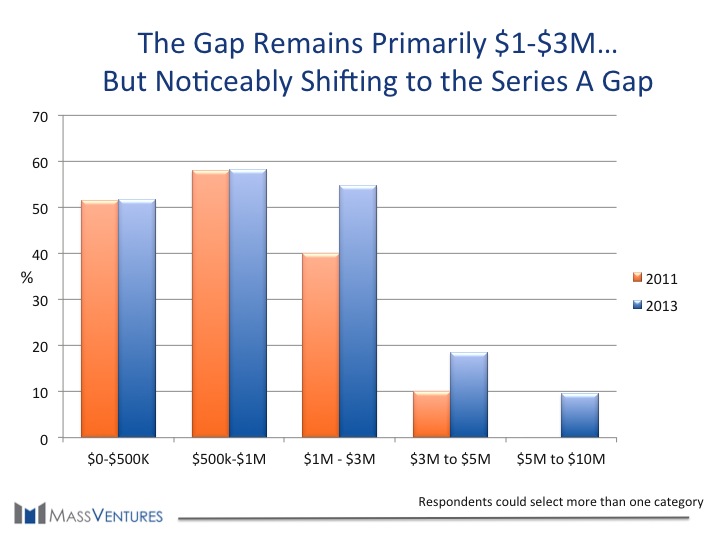 With those results in hand that affirmed our mission, MassVentures accomplished the following over the year:Led the oversubscribed Series A funding round of more than $2M for Content Raven. The first investment in partnership with MassDevelopment's Emerging Technology fund.
Led a $755K seed round of financing for online publishing startup Libboo.
Continued with the second year of the SBIR START program, providing $2M of funding to fourteen companies.
Portfolio exits from Incentive Targeting to Google and Clarity to Turbon to replenish investment capital.
Since 1978 MassVentures has focused on getting companies started – companies like uTest, lifeIMAGE and OwnerIQ and further back, Concord Communications and Kronos, to help grow the local economy and position Massachusetts as a world leader in innovation.
We look forward to this continued success in the year ahead.
Best,
Jerry