MassVentures, The State of Massachusetts' VC arm, announced today that it has participated in the latest round of funding for Jebbit. The Boston-based company works with clients such as Dell, EMC and Reebok to more efficiently engage and convert potential consumers with interactive quizzes, content and more.
Jebbit's solution requires no code integration and powers marketing goals like brand awareness, user acquisition, eCommerce sales, and lead generation with an interactive experience that overlays landing pages, videos, and other content. The questions incentivize consumers to learn more about the brand with a reward, such as a discount, and allow brands to collect valuable information about their audience.
"One of our focuses at MassVentures' is to support promising, first-time entrepreneurs. Both Tom Coburn and Jonathan Lacoste are a perfect fit for us. Jebbit has been very successful in filling a real void for companies that need to better engage their customers post-click," said Nick Pappas, Vice President, MassVentures. "The simplicity and versatility of the Jebbit platform is very exciting and we look forward to helping these exceptional entrepreneurs scale the business."
Jebbit is the second investment MassVentures has made in the growing Massachusetts' marketing/advertising technology space, following a previous investment in OwnerIQ. For an overview of the innovation happening in the local ad-tech and marketing-tech space, see the infographic that Jebbit created below.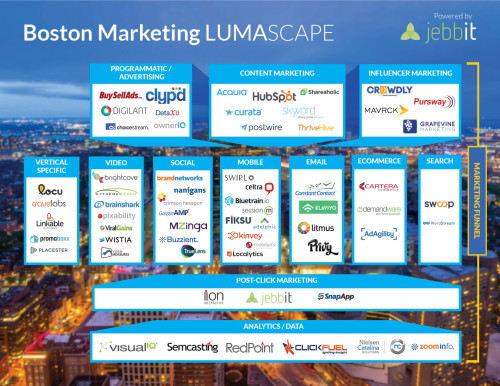 "We are pleased with the progress we have made to date helping leading brands develop successful post-click marketing strategies. This added investment, along with the support and mentoring from Nick and the MassVentures' team, will help drive momentum well into 2016," adds Tom Coburn, Jebbit CEO and Founder.