Over the past few months MassVentures has conducted research with the goal to gain a broad perspective on the state of the funding market for early stage technology companies in Massachusetts – what's working well, what are the gaps, and how has it changed since we last conducted this research in 2011. We received over 300 responses to the survey; 55% were entrepreneurs, 15% from the VC community and 15% service providers.
A Shifting Gap to the Series A Round
Respondents continue to indicate that the capital gap in funding entrepreneurs is between $0-$3 million. However there is a noticeable shift from seed to Series A over the past two years. This may be indicative of it being easier to raise seed money, which means more companies are running into the challenge of raising the Series A round. Additionally, most agree that funding for 1st time entrepreneurs and underserved industries and regions of Massachusetts continues to be a challenge.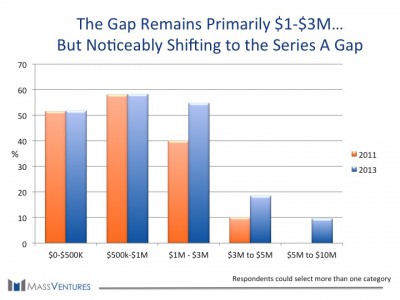 Raising the Series A Round
There is much discussion regarding the Series A capital gap and the difficulties in raising follow-on funding. We posed the question to our entrepreneurs and received positive news that 67% of respondents were able to raise follow-on funding in less than 12 months. Most found the process efficient, although many are still looking for a better understanding and a consistent process for how to navigate it.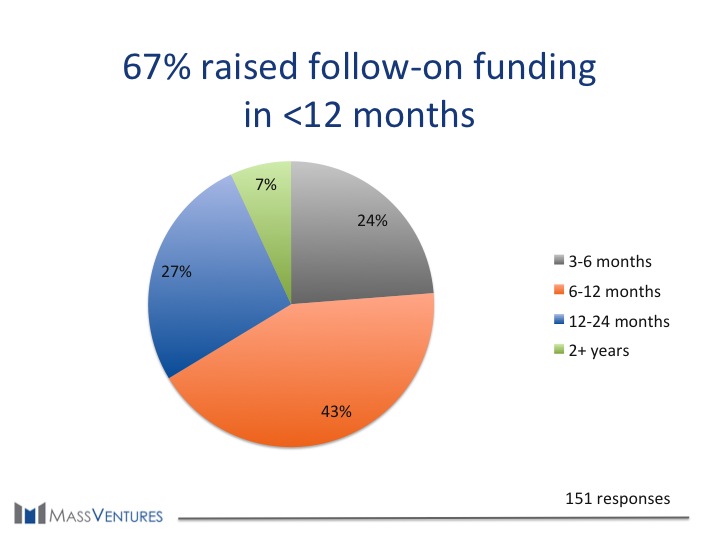 Boston You're My Home
There is significant debate throughout the community in regards to the best place to launch a startup. For all the "threats" that entrepreneurs are leaving in droves, the majority think it is overstated. However, for those that are leaving, they are primarily heading to California and New York for access to capital, capital for new markets and the speed and efficiency of the investment.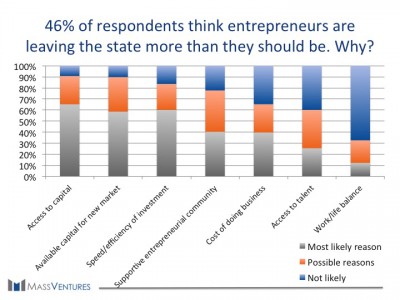 Industries on the Rise
It was great to see that according to respondents, healthcare IT continues to thrive in the state, and mobile and biotech have improved greatly. Consumer funding is still thought to be lacking although hopefully there is positive momentum with funding of companies such as LevelUp, Gemvara, DisruptorBeam and SessionM.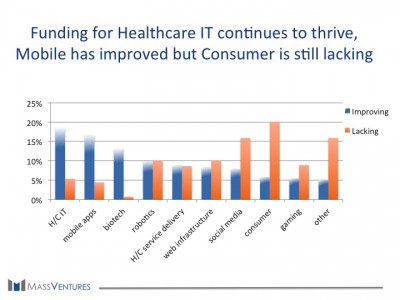 MassVentures Role in the Ecosystem
From the survey, most respondents agree that the State should play a role in identifying in-state opportunities, developing a talent pool and VC financings. It is the primary goal of MassVentures to focus on the identified capital gap – Series A investments and occasional and opportunistic seed rounds. We provide capital for first-time CEOs, including our recent investment in Content Raven, and look towards industries underserved by the venture community.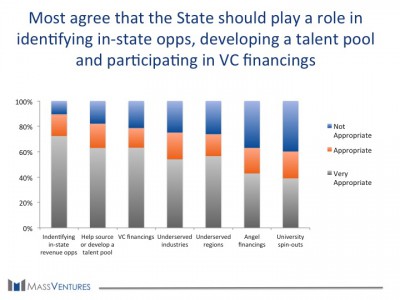 For the full survey results, please click here. Thanks to all those that shared their insights. We look forward to working with you to continue to support the Innovation Economy in Massachusetts to create new sustainable companies and job growth. If you would like to talk with us about the launch of your new idea and company, please feel free to contact me.
Best,
Jerry Bird
617-723-4920
@jbird14